Tanning
---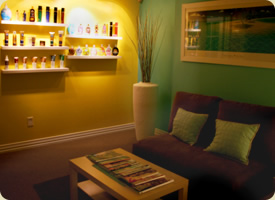 At Perfect Touch Day Spa our tanning salon is dedicated to providing you with a customized tanning experience in a relaxed, intimate and soothing environment. Perfect Touch brings the right combination of professionalism, knowledge, and comfort that sets a new standard of excellence for the discriminating customer.
We'd like to think of ourselves as Fort Worth's "Best Kept Secret"; a secret hideaway to escape to. We take pride in providing the best customer service experience possible. Here you will find the very latest and most innovative tanning techniques available in the industry.
Why Tan?
A base tan is your body's self-defense against sun burn. Every year your body goes through the process of reintroducing itself to the effects of the sun. Without gradual exposure, you are at a higher risk of burning which damages your skin and accelerates the aging process. Aside from protecting you, your tan can also provide aesthetic benefits, making you appear slimmer and reducing the appearance of cellulite and stretch marks.
---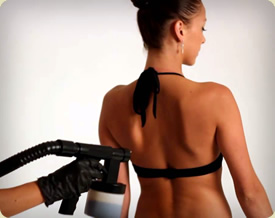 UV Free Tanning
Professional Airbrush Tanning
Natural looking tans in a professional day spa environment. We use the highest quality tanning products that will give you a healthy, natural looking glow. All of our air brush tanning products are 100% vegan and are paraben, sulfate and gluten free.

The Perfect Glow
Our professional airbrush technicians will help you choose a custom shade that will complement you best. Our solutions are organic and designed to firm and tighten your skin. They minimize stickiness and have an allergen-free raspberry almond fragrance.
$45
Airbrush Primer
Applied prior to your airbrush tan, this primer will balance the PH of your skin, hydrate your skin, boost amino acid levels and maximize your sunless color results.
$15
Color Boost
Highly concentrated, 100% organic DHA drops that boost the color of your airbrush tan.
$5
The Perfect Plus
Our very best airbrush tan for those special occasions when only the very best will do. This airbrush tan utilizes a proprietary amino acid propulsion system to boost rapid tan development in as little as one-hour. It also includes the "just off the beach" Venetian color tone that will have you looking like you just spent the day tanning in the Mediterranean sun. The Perfect Plus includes the Airbrush Primer and our Color Booster.
$65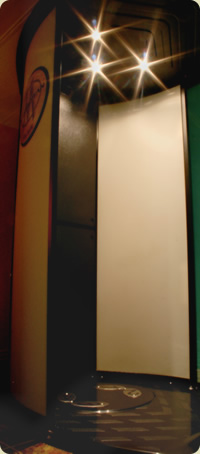 MyMyst Tan


Not your ordinary Mystic Tan! Sick of feeling claustrophobic? Scared of turning orange? Alleviate your fears with the personalized MyMyst system. The booth is open, eliminating all "closed in" feelings that come with getting sprayed in a booth. Specialized cartridges provide a natural looking tan and lightly mist you throughout the five minute process – the application feels similar to the wind blowing against your skin and doesn't leave you wet or sticky.

$25 per session
$200 for 10 sessions
Accelerator -- $7
Cuts the development time in half while balancing your skin's PH levels, ensuring you get a natural non-orange looking tan.
Mocha Kyssed Triple Bronzer -- $5
Get up to 5 shades darker than your natural skin tone!
---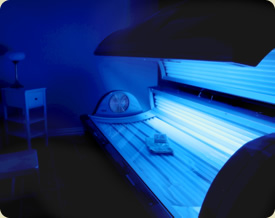 UV Tanning
Tanning Beds
Perfect Glow utilizes only the finest tanning beds manufactured by the renowned Wolfe Tanning Systems.

Premium
These 20 minute beds feature 32 body lamps and three Ultra Pressure facial lamps.

$7 per session
$39.99 Monthly Membership - unlimited tanning visits
$30 per Month - with contract
Ultra
A power house 12 minute tanning bed that features 32 body lamps and three Ultra Pressure facial lamps.

$12 per session
$49.99 Monthly Membership - unlimited tanning visits
$40 per Month - with contract
Elite
One of finest tanning systems ever made, this 12 minute bed offers 48 body lamps, four Ultra facial lamps and four shoulder lamps for the most complete tan possible.

$18 per session
$59.99 Monthly Membership - unlimited tanning visits
$50 per Month - with contract
Rejuvasun
A 20 minute bed with low-energy LED face lamps that give off light pulses in specific frequencies and colors that is clinically proven to show a 74% improvement in fine lines and wrinkles. FDA cleared.

$10 per session
$44.99 Monthly Membership - unlimited tanning visits
$35 per Month - with contract

Rejuvasun: Tanning & Skin Beautifying in One


view video
---
Tanning FAQs
How long does the airbrush tan last?
The airbrush and the MyMyst tan last about five to seven days. This depends on various things. Of course you want to shower, shave and exfoliate before you come in for those treatments. Moisturizing often or using a tan extender help prolong the life of your tan. The less frequent you shave or exfoliate will also extend the life of your tan. Salt water, and chlorine will affect your tan, as they serve as natural exfoliates.
What should I wear when coming to my airbrush appointment?
Dark loose fitting clothing is always best. The DHA may temporarily stain your white clothing. Avoid materials such as nylon, lycra, spandex, or silk.
Are there any tips to get a better tan?
A natural tan takes 24-48 hours to develop, so it is best to allow 48 hours between sessions. The tanning process occurs within the epidermis when melanocyte cells are stimulated by ultraviolet light that causes them to produce the pigment melanin. Melanin production results in the tanned appearance of the skin and is the skin's natural defense against the sun and over-exposure, i.e. sun-burning. Melanin travels to the surface, where it eventually flakes off. This process allows us to develop new skin every four to eight weeks. Keeping your skin hydrated and exfoliated will help maintain a more radiant and healthy-looking tan.
Do you accept walk-ins for airbrush tanning?
Yes, but we recommend calling ahead to ensure an appointment is available.
What preparation is needed for the airbrush and/or Mystic Tan?
To keep your tan as long as possible, exfoliate and shave before getting your UV-free tan. Do not apply lotion as it may act as a barrier to the DHA and the tan will not adhere to your skin. Please remove all make-up as well.
What is the difference between high pressure and low pressure?
To understand the difference between high and low pressure beds, you must first understand the different wavelengths of ultraviolet light and what each light is most efficient at in the tan process: UVB is more efficient at starting the tanning process by stimulating the melanocytes in the skin to produce melanin (that's what makes the color). UVA is more efficient at oxidizing the skins melanin to turn it brown. For example, when you cut open an apple, the air oxidizes it and turns it brown. Low pressure beds utilize both UVA and UVB rays, similar to sunlight, just at a higher concentration. High pressure bulbs however, utilize almost exclusively UVA light. These beds have removed the low doses of UVB light and replaced them with a higher concentration of UVA. Since UVB light is more likely to cause sun burn, high pressure beds are sometimes called "Bronzing beds".
Why do I need to use lotion?
If you want your body to be healthy, you feed it, right? The same goes for your skin. Feed it with moisturizers formulated for tanners. Use a lotion designed to replace the moisture lost while in the tanning unit and give your skin that extra shot of l-tyrosine that helps you tan even faster. These products will produce healthy skin that will tan faster and also help you to keep your tan longer. Keeping your skin hydrated with special lotions designed for tanning beds can help increase your tan by 60%!
Can I tan while I'm pregnant?
While there is no evidence that a fetus is affected by its mothers' exposure to either the natural sun or indoor tanning equipment, a potential drawback to tanning during pregnancy may be the risk of the woman's body overheating. Pregnant women are cautioned to avoid prolonged sauna and whirlpool exposure due to the possible harm to the fetus from the rise in the woman's core body temperature. Core body temperature is the temperature of the blood as it is pumped from the heart, which normally ranges from 99 to 100 degrees Fahrenheit. Extended periods of sauna or whirlpool exposures or prolonged vigorous exercise may actually cause this temperature to rise. This rise in body temperature could result in developmental damage or possibly death to the fetus. Providing there is adequate ventilation in the tanning rooms, the length of time of a tanning session would not be long enough to change core body temperature.